CITIZENS COMMISSION ON HUMAN RIGHTS FREE INFORMATION KIT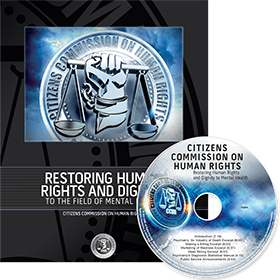 What should you know about psychiatry's "cures" in the name of mental health? How valid are psychiatrists' diagnoses—and how safe are their drugs?
The answers are contained in this information kit, which is provided free to legislators, government officials, medical and legal professionals, human rights and advocacy organizations:
An introduction to the Citizens Commission on Human Rights (CCHR), which has been exposing abuses and bringing reforms to the field of mental health for more than 40 years
Excerpts from award-winning CCHR documentaries:

Psychiatry: An Industry of Death
Making a Killing: The Untold Story of Psychotropic Drugging
The Marketing of Madness: Are We All Insane?
Dead Wrong: How Psychiatric Drugs Can Kill Your Child
Diagnostic & Statistical Manual: Psychiatry's Deadliest Scam

TV public service announcements warning about the dangers of psychotropic drugs.
Effective actions you can take to safeguard individuals from psychiatric exploitation and abuse.
Please fill out the form to receive your free information kit.